The CATS Control tab offers:
•Create/Remove CATS from connected TR module.

oCreate CATS
Creates the CATS service tool from connected TR module in RF band according to the TR module type and TR configuration. After CATS creating or connecting an information about parameters of active CATS tool is shown (if given warning is active).
CATS connecting is indicated on bottom status bar of IQRF IDE.

The CATS version is shown in Output window after connecting.
The CATS cannot be created from a TR module with the IQRF OS version 4.xxD upgraded from the originally manufactured version 3.xxD.
oRemove CATS
Removes the CATS from connected TR module.
---
•Information about connected CATS.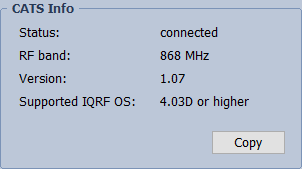 oCopy
Copies information to the Windows clipboard in the following format:
IQRF IDE: 4.54 (1.8.2019)
CATS version: 1.07, RF Band: 868 MHz
Programmer Type: CK-USB-04A, ID: 0E00043D, Version: 1.15
TR module type: (DC)TR-72Dx, MID: 830001E8, OS version: 4.03D (08C8), MCU type: PIC 16LF1938
---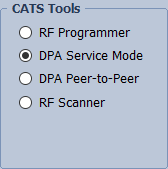 oThe RF Programmer can be activated by:
▪CATS Tools selection above.
▪RF Programming checking in Project window.
▪Z menu Programming / RF Programmer.
▪Ctrl+F6 hot keys.
▪RFPGM button on DPA Service Mode tab.
oFor more information about tools switching see help of given tool.
---
•RF programmer parameter settings.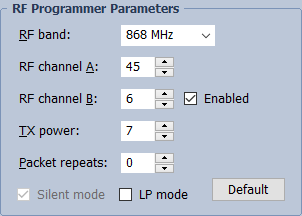 oThe parameter settings are the same (mutual connected) with the settings in the Project Properties.
---