Configuration tool for IQRF gateways (GW from now). The authorization is required for connecting. The user must know the username and password stored in the GW.
•For supported GW see Release Notes / Supported Hardware.
Notes:
oIf the GW Tool is opened the GSM or ethernet communication of GW is running. If the GW Tool is closed the connected GW is in so-called terminal mode when Terminal can be used for direct communication with TR module inside the GW. This communication is not logged in the GW.
oThe content of the Password tab (User Name and Password) does not change neither on default configuration setting nor GWCNFG file opening.
oIf the GW-GSM-xxx has SIM card with PIN protection: After uploading of default configuration (no PIN) or configuration from a file with invalid PIN the prompt to enter valid PIN will be displayed.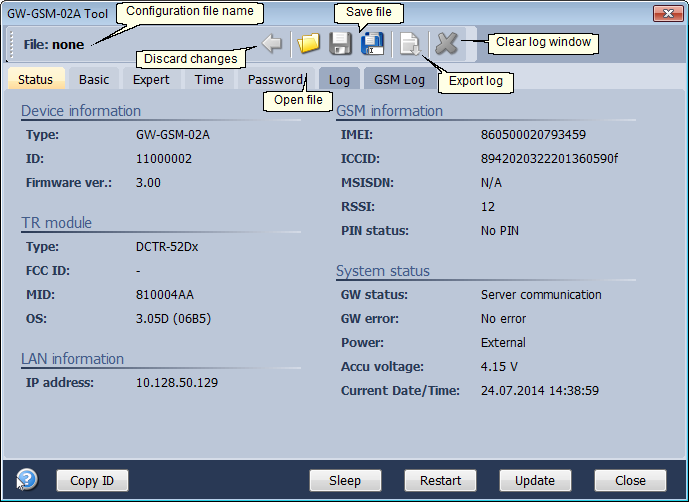 •Displayed information and controls are generated dynamically according to the connected GW.
•For detailed description of all parameters see datasheet of given GW.
•Buttons description.
oCopy ID (Status tab only)
Copies GW ID to the Windows clipboard.
oSleep
Puts the GW to sleep mode (invalid for GW-ETH-xxx) and closes the GW Tool window.
oRestart
Restarts the GW. After restart all information is downloaded automaticaly.
oUpdate (Status and Log tab only)
Updates status information or logged records.
oClose
Closes the GW Tool window.
oDefault
Sets default GW configuration (without writing the GW).
oDownload
Reads configuration from GW. All information and configuration is automaticaly downloaded on GW Tool launch.
oUpload
Writes configuration to GW.
oErase (Log tab only)
Erases all records in GW and clears window.
•Click the right mouse button on Log or GSM Log tab to display menu.
oClear Ctrl+D
Clears all logs in the window.
oCopy Ctrl+C
Copies selected logs to the Windows clipboard.
oPrint
Not implemented yet.
oExport
Exports content of the window to the TXT, HTML, CSV or XML file.
oSelect All Ctrl+A
Selects (highlights) all logs.
---