This window displays a progress of the AutoNetwork process.

•Window options

oAuto Scroll
The window is scrolled automatically to make the last record visible all the time.
oAdvanced
Displays complete log.
oHorizontal
An empty line is included between individual records.
oVertical
Displays vertical lines between columns.
•To display menu, click the right mouse button in the window area. The menu can be displayed only if the AutoNetwork process is not active and the AutoNetwork progress window is closed.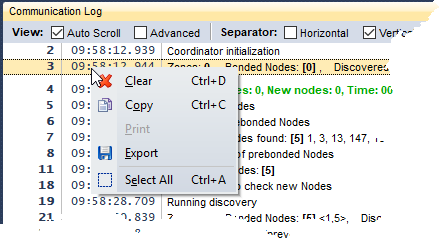 oClear Ctrl+D
Clears all logs in the window.
oCopy Ctrl+C
Copies selected logs to the Windows clipboard.
oPrint
Not implemented yet.
oExport
Exports content of the window to the TXT, HTML, CSV or XML file.
oSelect All Ctrl+A
Selects (highlights) all logs.
•Text can be selected (highlighted) also by a mouse.
---