Detailed information about connected DPA device.
•Indicator
oGrey - unbonded device
oYellow - bonded device
oOrange - prebonded device (universal address 254)
oBlue - discovered device
oGreen - Coordinator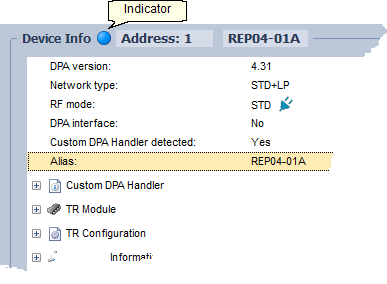 •Click the right mouse button in the Device Info area to display menu.
oCopy Ctrl+C
Copies selected items to the Windows clipboard.
oPrint
Not implemented yet.
oExport
Exports content of the window to the TXT, HTML, CSV or XML file.
oSelect All Ctrl+A
Selects (highlights) all information.
---