Complete setting is saved to the IQRF IDE project.
•DPA Service Mode parameter settings.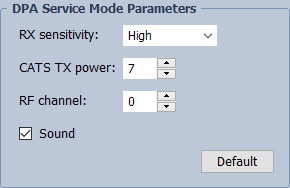 oThe appropriate CATS TX power and RX sensitivity setting can affect the RF range between CATS and connected DPA device in DSM mode. The Default button sets the maximum RF range.
oThe RF channel setting must correspond to the DSM channel used in DPA device. Either dedicated DSM channel 0 or alternative DSM channel set in TR configuration of the DPA device (for DPA v2.20 or higher).
oSound
Activates a sound indication.
---