•The macro import wizard can be opened from the File menu or from the selection displayed after the right mouse button click at the Macro Set tab.
•Macro sets with the .iqrfmcr extension can be imported according to the user's selection.
---
Import Macros procedure
1.Click the Browse button and navigate to required file. Possible user comment included in the file is displayed in field Description.
2.Select required items from the Imported Macro Sets selection.
3.Select an import method:
oComplete
All macro sets included in the file will be imported to the project in given order. Other sets in the project will be cleared and their names as well as the names of possible defined macros will be set to defaults (Macro Set x, M1, M2, ...).
oUser Selection
Allows to select macro sets to be imported and macro sets in the project which will be replaced by them.
4.Click the Next button.
5.Continue: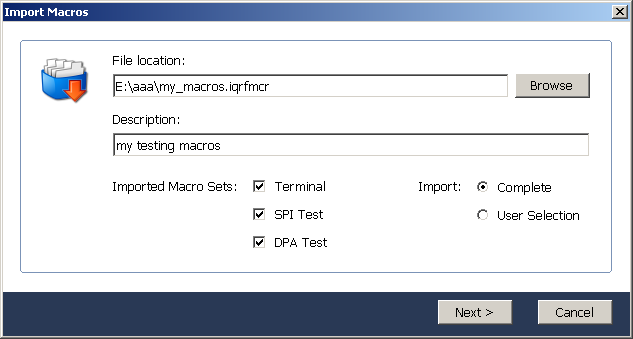 ---