•The Toolbar contains function keys split in the following Toolbar Groups:
oFile
•Displaying of groups can be selected from the View / Toolbar menu or by clicking the right mouse button on the Toolbar.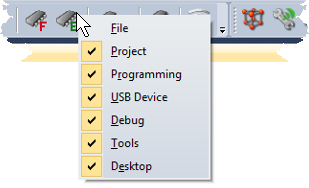 •The group is displayed on the bar where the menu was invoked (top, left).
•The group can be dragged at the window edge by the mouse

and replaced to the left or top Toolbar or made floating.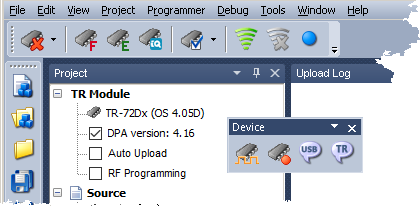 •The Debug a Desktop groups can be placed on the topToolbar only.
•By clicking on the tool bar edge

the menu for selection of individual buttons in the group is displayed.

•If it is not possible to display all selected buttons on the tool bar of given size, the buttons are replaced to the menu above.
•Toolbar setting is associated with current Desktop - individual Toolbar setting for every Desktop.
---