•Click the item in this menu to display corresponding Desktop (placement of IDE windows).
•Current Desktop is marked by icon:

•IDE contains 3 default Desktops associated with program:
oEdit Default Layout

oDebug Default Layout

oTerminal Default Layout

Shift+F2

Shift+F3

Shift+F4
•The user can create his own Desktops automatically being associated to current Project. Key shortcut Shift+F5 is used for the first of them.
---

Save Desktop ...
Open a dialog window to save current Desktop. An existing Desktop can be overwritten or a new one can be created.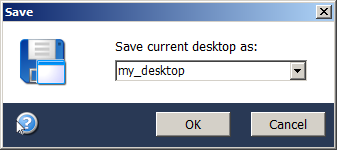 Delete ...
Open a dialog window to remove an existing Desktop from the list.
Restore Default Desktops
Restore the original Desktops to their defaults.
---